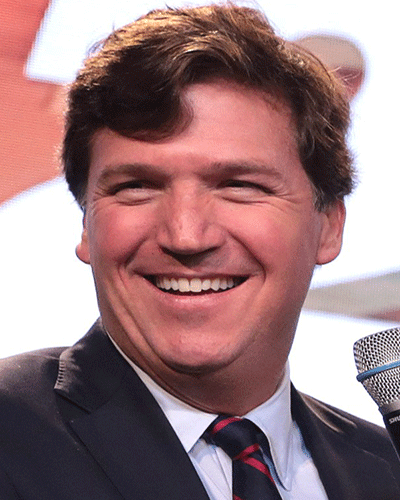 Tucker Carlson is best known for his outstanding anchoring capabilities in many TV shows in America. Tucker  Carlson is an American political commentator and conservative television host. He is best known for hosting the nightly political talk show Tucker Carlson Tonight since 2016. He is an advocate of U.S. President Donald Trump. Carlson's controversial statements on race, immigration, and women have led to advertiser boycotts against the show.
He co-founded and served as the initial editor-in-chief of the conservative news and The Daily Caller. As of 2020, his show is the most-watched cable news show in the United States. Carlson has been called a nationalist and a paleoconservative. He espouses anti-interventionalist views and has renounced his initial support of the Iraq War. He was a CNN commentator from 2000 to 2005 and co-host of the network's prime-time news debate program Crossfire from 2001 to 2005.
Early Life, Family & Education
The famous TV host Carlson was born in 1969. Carlson is the younger son of Richard Warner Carlson, the Voice of America's director and the United States ambassador to Seychelles. When he was six years old, his mother left the family to follow a "bohemian" lifestyle. Carlson went to Middletown, Rhode Island's St. George's School. In 1991, he earned a BA in history from Trinity College in Hartford, Connecticut. Carlson attempted to join further schools but didn't continue his study anymore.
Tucker Carlson Career
Carlson started his career journey by appearing as a debut journalist in many TV shows and serials.  Carlson began his journalism career as a fact-checker for Policy Review. He later worked as a reporter at the Arkansas Democrat-Gazette and Weekly Standard. In 1999, Carlson interviewed George W. Bush for Talk magazine, which led to bad publicity for Bush's 2000 presidential campaign.
In his early television career Carlson wore bow ties, a habit from the boarding school he continued on-air until 2006. Carlson was replaced by Vince Coglianese as editor-in-chief in 2016 after he began hosting Tucker Carlson Tonight on Fox News. In June 2020, Carlson sold his one-third stake in The Daily Caller to Patel to sell his one-third stake in the publication. He has also written for Esquire, Slate, The Weekly Standard, The New Republic, and The New York Times Magazine.
Personal Life
Carlson is married to Susan Carlson and has four children. As a person, he doesn't like to express more about his family in front of the media.
Physical Appearance
Carlson always appears in TV shows with a formal get-up. He has always been a good example of a man who keeps his body fit even though working 24/7.
Some Lesser Facts
He also writes books and does charity work.
Carlson loves long drives a lot.