Mamunul Haque is a Bangladeshi Islamic scholar, professor, international Islamic speaker, politician, economist, academician, writer, editor, and social reformer. He is the secretary-general of Bangladesh Khilafat Majilish and also the secretary-general of Hefazat-e Islam. He is the founder of Babri Mosque Bangladesh. Mamunul is the Shaykh al-Hadith of Jamia Rahmania Arabia Dhaka and also a professor of economics at the Asian University of Bangladesh.
The professor is the chief editor of the monthly Rahmani Paige. He is involved in many organizations such as Rabetatul Waizin Bangladesh and an organization of Islamic speakers in Bangladesh. The professor has the ability in five languages like Bangla, English, Arabic, and Urddo. Mamunul Haque is best known for various massive movements like the Hefazat Movement, the Movement of Bongubondu's statue, and Protests Against Modi's Visit to Bangladesh.
He won the popularity to speak about atheists, secularists, and anti-Islamist. He is arrested several times. There are many organizations like Bangladesh Awami League, Chhatra League, and Jobo League that started a massive movement for demanding arrest, banning, and give punishment to him. They also try to introduce Mamunul Haque as Islamic fundamentalist.
Family and Early Life
Mamunul Haque was born on May 10, 1973, in Munshiganj, Dhaka, Bangladesh. He belongs to a well-known Muslim family in Bangladesh. His father Azizul Haque is an Islamic scholar, Lecturer, politician, writer, and translator. Azizul Haque is the founder of Bangladesh Khelafat Majilish and the first Bangali translator of 'Sahid Al-Bukhari'. Mamunul Haque's mother's name is not known. Mamunul has thirteen brothers and sisters.
Mahfuzul Haque is his elder brother and he(Mahfuzul) is an Islamic scholar. Mamunul Haque was a very talented and meritorious student from his childhood. At the age 12, he memorized the Quran at Lalbagh Chantara Jame Masjid Madrasa, Dhaka. In 1993, he won the first position in the Befaq examination from Share Bekaya Jamaat, third position in Meshkat Jamaat in 1995, and first position in Masters (Islamic Studies) in 1996. Simultaneously Mamunul passed the SSC and HSC from Bangladesh Open University, Dhaka. Then he completed a Bachelor of Economics from the Asian University of Bangladesh.
Career
Mamunul Haque started his career as a Teacher in Sirajganj Jamia Nizamia Bethua Madrasa for five years and at Mirpur Jamiul Uloom for two years. The professor joined Mahadut Tarbiatul Islamia, a higher Islamic education, research, and training institution. In 2020 he joined Jamia Rahmania Arabia, Dhaka. He also worked as a part-time professor at the Asian University of Bangladesh.
In 2019, Mamunul was elected as an advisor to Rabetatul Waizin Bangladesh which is the organization of Islamic speakers in Bangladesh. On October 10, 2020 manual was elected Secretary-General of Bangladesh Khilafat Majlish and Joint-Secretary General of Hefazat-e Islam in the same year.
Criticism
On May 12, 2013, Mamunul led the Hefazat movement held at Shapla square in Dhaka, then he was arrested by Bangladesh Government. At this moment he wrote the book 'Speaking From Prison'. On April 6, 2019, The Bangladesh government declared Mamunul Haque is an aggressive speaker. Because he opposes the Illegal government that destroy humane right and did illegal work.
On November 13, 2020, Mamunul requested to government to remove Bongobondu's upcoming statue and built Bongobondu Miner because Bongobondu is a Muslim. Any Muslim can not allow it, Allah was forbidden to built and worshipping statue. But the government didn't agree with Mamunul, for that all kinds of Islamic groups and Muslims opposed the government's decision.
Mamunul Haque opposed Indian prime minister Modi's to visit Bangladesh to celebrate Bangladesh's 50th anniversary. He accused Modi of the crime of humanity during the 2002 Gujarat riots, India's anti-Muslim policies, and India's interference in Bangladeshi politics. For that, he leads the anti-Modi protests movement and there are 17 people laid down by police fired.
Mamunul Haque's popularity is increasing day by day with his anti-government speech.
He was arrested on April 18, 2021, by the police from a Madrasha in Dhaka.
Personal Life/Relationship
A large criticism embroiled his personal life. How many times he married? it is a big question to the people because we can know about his three marriages. At first, he married Amena Tayba and he has three sons by the first marriage. Then he built up a relationship with Jannat Ara Jarna and claimed that he married her but the issue raises suspicion enough when he was caught by the local people in a resort at Narayanganj. Now law enforcement forces able to trace his third marriage with the woman Jannatul Ferdous Lipi.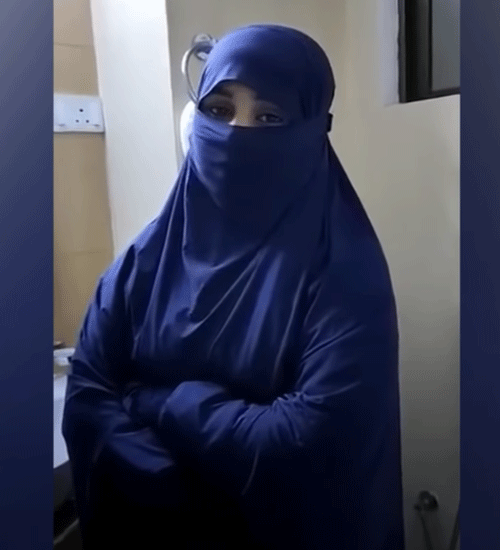 Publication
Mamunul Haque published 10 books and edited 4. He is the editor of the monthly magazine Rahmani Paygame, which writes about Islamic theory and history. He also writes about contemporary and national issues in daily newspapers.
Books:
• Speaking from prison (2013)
• Time message
• Speaking of arches and pulpits
• The role of Alem Society in the freedom struggle
• Struggle in the way of truth
• Women's rights: interpretation and elimination of misconceptions
• Pahela Boishakh: What does Islam say?
• The identity of a successful believer
• A religious invitation
• Caliphate state system: introduction and policy
• I want lively workers in the Islamic movement
• Leadership and loyalty in Islamic organizations
• Leadership, loyalty, and Islamic life
• What is the Islamic organization and why?
Some Laser Known facts about Mamunul Haque
• Does he drink alcohol?: No
• Does Mamunul smoke?: No
• Bangladeshi MP Nixon Chowdhury opposed Mawlana Mamunul but it interesting fact that they resolved the issue later.