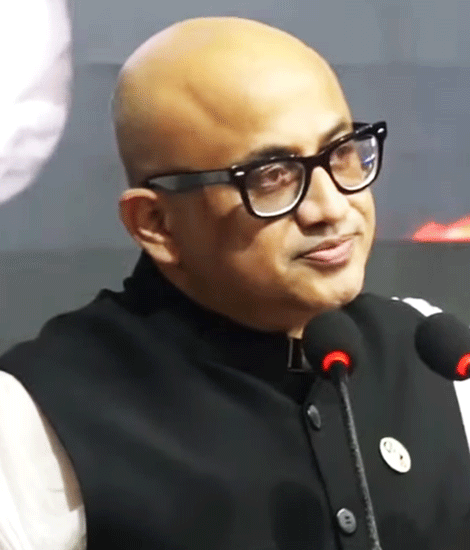 Murad Hasan is a Bangladeshi politician and parliament member from the Jamalpur-4 constituency who had been forced by Prime Minister Sheikh Hasina to resign from the position of State Minister of Information. He served as State Minister of Information during 2019-2021.
He is widely criticized across the country due to his vulgar and derogatory speech on several issues, especially to the Zia family and Zaima Rahman. Finally, he was forced to resign as the state minister and he did it and tried to go to Canada but failed.
Murad Hasan Early Life:
Murad Hasan was born on October 10, 1974, in Sarishabari, Jamalpur, Bangladesh. His father Motiyar Rahman Talukdar was an organizer of the 1971 Liberation War and temporary justice of the Mujibnagar government. Talukdar also was the president of Jamalpur District Awami League and District Lawyers Association.
Hasan completed SSC from Jamalpur Zila School in 1990 and HSC from Notre Dame College in 1992. In 2001, he completed his MBBS from Mymensingh Medical College.
Murad Hasan Career:
Murad Hasan started his career journey as a doctor then he turned his career into politics being a parliament member in 2008 from Jamalpur-4 constituency as a Bangladesh Awami League candidate. On May 20, 2019, he took the office of state minister of information. Earlier he served as the State Minister of Health and Family Welfare Ministry in 2018. Hasan played a role as a consultant in the Oncology Department at Bangabandhu Sheikh Mujib Medical University.
Controversies:
I think his downfall began when he said 'Islam is not the state religion, I do believe it. We will take the necessary steps soon to remove Islam as a state religion from the constitution. Over his such remarks religious groups, political parties, and general people got outraged and demand his termination from the state minister.
On December 2, 2021, at an online interview, Murad made vulgar, racist, and sexual remarks about Zaima Rahman and his father Tarique Rahman. Two days later on December 5, 2021, an audio call record of his with actress Mahiya Mahi went viral on social media where he made sexual remarks about Mahi's body and urge her to come to his place, and threatened to rape her.
Over the call-record scandal and remarks about Zaima Rahman, Prime Minister Sheikh Hasina ordered him to resign from his position as State Minister of Information. On December 7, 2021, he resigned and was ready to leave the country.
Then he went to Canada but could not go out of the airport and Canadian immigration pushed back him to Bangladesh instead of entering their country. He come to Bangladesh via Dubai on December 12, 2021. Now, he is living in his relative's house in Uttara.
Personal Life:
In his personal life, he is a married man and has a daughter.
Quick Facts of Murad Hasan:
Full name: Murad Hasan
Nickname: Takla Murad
Birth Date: October 10, 1974
Birth Place: Sarishabari, Jamalpur, Bangladesh
Education: Mymensingh Medical College
Occupation: Politician 
Net Worth: $3 Million
Spouse (s): Not Known
Religion: Islam
Height: 5 feet 9 inches
Weight: 85 kg